CDVI MVM Deadbolt Surf Motorised Lock
Merken:
CDVI
Artikelnr #:MVM
Model #: MVM
Naam: CDVI MVM Deadbolt Surf Motorised Lock
Non-handed motorised dead-bolt with manual operation
Audible signal for locking error
Suitable for outdoor use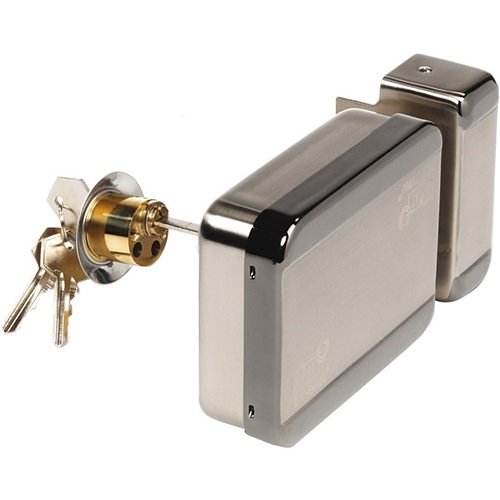 Productoverzicht
Algemeen Informatie
The MVA/MVM motorised locks provide electronic deadlocking to suit a wide range of applications. Manufactured to IP53, these locks are suitable for external and internal use.

Widely used on external gates, the MV series are equally equipped to lock heavy duty doors, cages etc and include a circular key cylinder with 3 keys which will fit door/gate thickness of 40-90mm.

The MV series is suppied without manual override (MVA) or with manual override (MVM) - the units are non-handed so are suitable for left or right side opening.

Nylon gears ensure a smooth, silent and rust-free operation, while the varnish coating on the electronics ensure the suitability for external use.

An audible signal is generated if there is a locking error, a sensor between the lock and keeper provides the alignment trigger to automatically drive the deadbolt.

This surface mount lock has been designed with fixings which are compatible with other locking devices of a similar nature, so retrofit/replacement is easier.

Main Features
Non-handed motorised dead-bolt with manual operation
Audible signal for locking error
Suitable for outdoor use
Categorie : Toegangscontrole, Elektronische Sloten, Sloten, Producten
Specificaties
Algemene Informatie
Energie
Physical Characteristics
Uiterlijke kenmerken
Overige
Inhoud verpakking
MVM Motorised lock
Round Cylinder
Keys