FIRE PANELS MISC
Merken:
TEF
Artikelnr #:MPX-REL-8
Model #: MPX-REL-8
Naam: FIRE PANELS MISC
8 Zone Realy Board
28 V DC nominal
7 mA - No relays active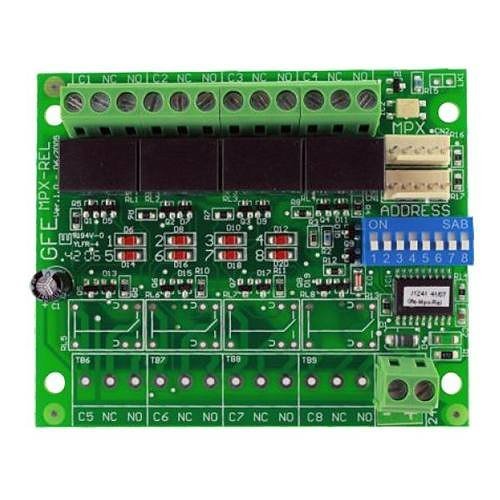 Productoverzicht
Algemeen Informatie
Interface card which provides an individual zone in alarm indication via a voltage free change-over relay contact for each zone in an ORION conventional panel. There are 2 versions: 4 and 8 zones and they are always used for indication of Alarm/ Fire conditions. There is also a LED indication of Alarm condition for each individual zone. The Red LED indicator will be ON when the relay is active. These relay outputs are not monitored. The DIL switch allows one relay output for a particular zone in the range 1 to 8 to be programmed as delayed and this is achieved using the first three switches (1 to 3). The delay time will be provided in the range between 0-10 minutes using the next four positions (4-7) on the DIL switch. The module requires an external 24 V DC supply. Connection to the ORION PCB board is via a 5 way flat cable fitted with Molex type polarised connectors.
Main Features
8 Zone Realy Board
28 V DC nominal
7 mA - No relays active
7 mA + 15 mA per active relay
15 settings from 0 to 10 minutes
-10ºC to 50ºC
95% RH Non-Condensing
88 (L) x 72.5 (W) x 18 (H) mm
4 zone - 60 g / 8 zone - 95 g
Categorie : Producten, Brand, Alarmcentrale voor Brand & Beveiliging, Bedieningspanelen