Paxton 820-010 Proximity Keyfob voor Compact of Switch2, 10-Pack, amber
Merken:
Paxton Access
Artikelnr #:820-010A-NL
Model #: 820-010A-NL
Naam: Paxton 820-010 Proximity Keyfob for Compact or Switch2, 10-Pack, Amber
Use with Compact and Switch2 systems
A lost keyfob can be voided with a shadow card
Additional packs can be added easily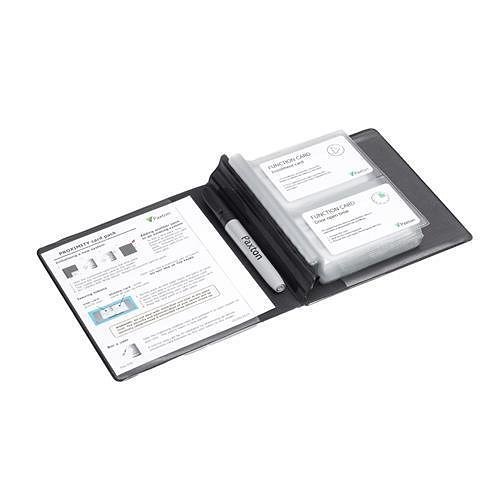 Productoverzicht
Algemeen Informatie
Informatie – Standalone tag pakketten worden gebruikt bij Compact, Switch2, PaxLock Pro en Entry systemen. Een intuïtief schaduwkaart systeem wordt gebruikt voor een groter beheerdersgemak. Met de schaduwkaarten kunt u via één handeling de gebruikerstag blokkeren. De tags en schaduwkaarten worden geleverd in een handige map. Installatie – Na de installatie van het systeem wordt het pakket eenvoudig geprogrammeerd met de bijgeleverde programmeerkaart. Door het aanbieden van de programmeerkaart op de kaartlezer zult u met één handeling het complete pakket programmeren. Volgende pakketten worden toegevoegd door eerst de originele programmeerkaart aan te bieden, gevolgd door de programmeerkaart uit het nieuwe pakket. Het systeem wordt verder geconfigureerd met de andere functiekaarten uit het pakket. Ontgrendeltijd functiekaart: Hiermee kunt u instellen hoe lang u de deur wilt open sturen wanneer een gebruiker een geldige kaart of tag aanbiedt. Ruststroom deuropener functiekaart: Deze functiekaart is alleen te gebruiken op het Compact systeem. Hiermee kunt u de slotsturing aanpassen wanneer u een spanningsloos ontgrendelt slot gebruikt. Wanneer u deze functiekaart aanbiedt zal het Compact systeem de slot sturing aanpassen voor het gebruik van een spanningsloos ontgrendelt slot. Wanneer u de functiekaart nogmaals aanbiedt op het Compact systeem zal de slotsturing weer aangepast worden voor een spanningsloos vergrendelt slot. Stille werking functiekaart: Als u de stille werking functiekaart aanbiedt op een lezer zult u de pieptoon van de lezer uitschakelen, bij het nogmaals aanbieden van de functiekaart zult u de pieptoon weer activeren. Werking – Een gebruikerstag wordt verpakt samen met een schaduwkaart. Wanneer u de programmeerkaart aanbiedt op de lezer zullen alle gebruikerstags geprogrammeerd worden. Wanneer u een tag uitdeelt aan een gebruiker noteert u een identificatiemiddel op de schaduwkaart bijvoorbeeld een naam of huisnummer. Dit herhaalt u voor alle tags die u uitgeeft. Wanneer een gebruiker zijn tag is verloren zoekt u de bijbehorende schaduwkaart op en biedt u deze aan op de kaartlezer. De gebruikerstag zal nu geblokkeerd zijn.
Main Features
Use with Compact and Switch2 systems
A lost keyfob can be voided with a shadow card
Additional packs can be added easily
Simple function cards are included
Choice of pack sizes
Choice of pack colour for using coloured zones
Categorie : Toegangscontrole, Key Fobs, Producten, Credentials
Specificaties
Overige
Compatibiliteit
Paxton Devices:
Proximity compact
Easyprox compact
Switch2