Elmdene 2402ST-MOD 24V DC, 27,6V, 2A aan belasting en 0,3A batterijoplading, PSU voor Brandbeveiligingssystemen
Merken:
Elmdene
Artikelnr #:2402ST-MOD
Model #: 2402ST-MOD
Naam: Elmdene 2402ST-MOD 24V DC, 27.6V, 2A to Load and 0.3A Battery Charging, PSU for Fire Systems
Up to 2.0A current to load at 27.6V dc nominal regulated output
Charging capability to support 7Ah or 17/18Ah batteries
Electronic overload protection shuts down output until overload or short circuit is removed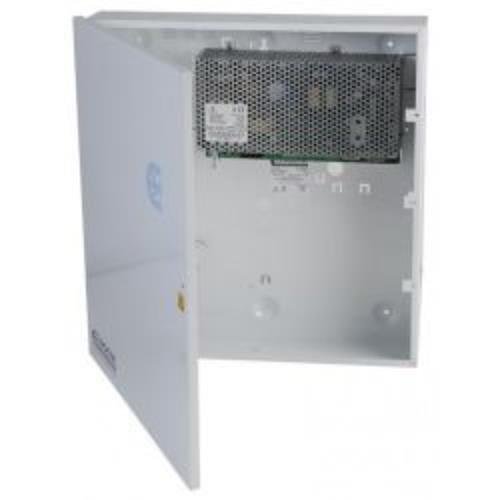 Productoverzicht
Algemeen Informatie
"The STX2402-MOD is an un-boxed switch mode power supply ideal for use in Fire, Access Control and
General Applications. Its regulated 27.6V dc output will supply up to 2.0 Amps continuously into the
load, in addition to providing up to 700mA for charging the standby batteries up to 18Ah. The power
supply output features electronic short circuit protection under both mains and standby battery
operation. Maximum battery life is assured through continuous active battery monitoring and the use
of a two stage charger, comprising bulk and temperature compensated final float phase depending
upon battery condition. Once fully charged the product operates in Eco power saving mode, whereby
the batteries are charged for 4 hours in every 24 hour period while still being continuously monitored.
This reduces wasted energy in charging already fully charged batteries and extends their working life.
Deep discharge protection prevents premature battery failure when operating from standby for
extended periods. Two sets of volt free solid state relay fault output signal (i) loss of mains and (ii)
battery fault, charger fault and loss of output"
Main Features
Up to 2.0A current to load at 27.6V dc nominal regulated output
Charging capability to support 7Ah or 17/18Ah batteries
Electronic overload protection shuts down output until overload or short circuit is removed
Battery Monitor detects battery missing, low battery, short-circuit or reverse connection or circuit impedance (Ri) in excess of 500m caused by connector or wiring corrosion within 4hours
Battery charging circuit is energised only when a battery is correctly connected and the battery voltage is greater than 14V
No loss of output during automatic connection of battery to load on loss of mains
Deep discharge protection disconnects battery from load when battery voltage falls below 21V
Categorie : Voedingen, Brand, Producten, Brandrelais & Voeding