Paxton 010-387 Paxton10 Desktop Reader
Merken:
Paxton Access
Artikelnr #:010-387-NL
Model #: 010-387-NL
Naam: Paxton 010-387 Paxton10 Desktop Reader
No software install required, the desktop reader works out-of-the-box
Quick and straightforward user registration
Reads Paxton, MIFARE®, HID™ Prox, EM, FeliCa, NFC and DESFire token technology Simple USB connection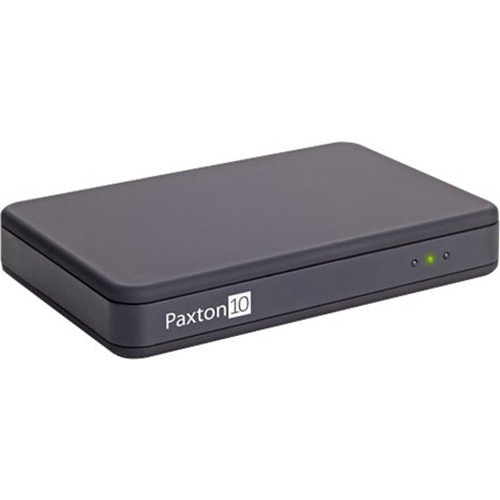 Productoverzicht
Algemeen Informatie
Informatie – De Paxton10 Desktop Lezer zorgt ervoor dat u de meeste voorkomende credentials eenvoudig kunt toevoegen aan een gebruiker binnen het Paxton10 systeem. De desktop lezer is voorzien van Multiformat techniek en ondersteunt verschillende formaten kaarten en tags zonder dat daarvoor extra configuratie nodig is. Doordat de USB desktop lezer de Multiformat techniek bevat kan de lezer meerdere formaten tegelijkertijd lezen en daardoor met verschillende soorten toegangskaarten en of tags worden gebruikt, o.a. Paxton, EM, MIFARE® DESFIRE® CSN, HID® Prox 125kHz, FeliCa en NFC*. Installatie – Sluit de desktop lezer aan op een vrije USB-poort van uw PC of Mac en log via de webbrowser in bij de Paxton10 Software. Desktop lezers kunnen met meerdere webbased clients worden gebruikt. Werking – Als een nieuwe kaart of tag aan een Paxton10 Desktop Lezer wordt aangeboden, wordt er automatisch een nieuwe gebruiker aangemaakt en zal de kaart of tag meteen worden toegevoegd. De naam en de gegevens van de nieuwe gebruiker kunnen ingevoerd worden en de juiste bevoegdheid kan worden toegevoegd waarna de kaart of tag kan worden uitgedeeld. Als een kaart of tag al in het systeem bestaat en door de desktop lezer wordt gelezen zullen de gegevens van de gebruiker verschijnen, ook kunt u op deze manier een gevonden kaart welke als verloren staat eenvoudig terugvinden. MIFARE® DESFire zijn geregistreerde handelsmerken van NXP B.V. en worden onder licentie gebruikt *NFC verwijst naar NFC-kaarten en tags en omvat momenteel niet het gebruik van smartphones.
Main Features
Ondersteunt Paxton, EM, MIFARE® DESFIRE® CSN, HID® Prox 125kHz, FeliCa and NFC*
Leer credentials eenvoudig in door een kaart of tag aan te bieden aan de desktop lezer
USB desktop lezer voor het Paxton10 systeem
Geen software installatie nodig, plug & play via een USB aansluiting
Categorie : Toegangscontrole, Producten, Keypads & Lezers, Slimme lezers
Specificaties
Technische Informatie
Camera
Connectiviteitstechnologie
Garantie
Uiterlijke kenmerken