Optex VXI-R Wireless Ready 40' x 40' Coverage Area, Pet Tolerant Outdoor PIR
Merken:
Optex
Artikelnr #:VXI-R
Model #: VXI-R
Naam: Optex VXI-R Wireless Ready 40' x 40' Coverage Area, Pet Tolerant Outdoor PIR
Pet tolerant
Walk test mode LED
Double conductive shielding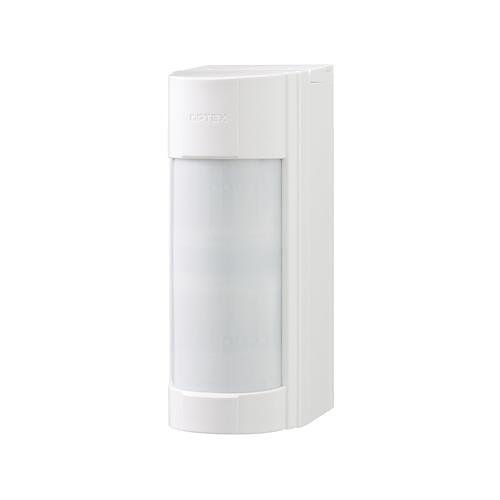 Productoverzicht
Algemeen Informatie
The VXI series is our best selling outdoor intrusion detection sensor range. It provides a very reliable approach detection with a range of up to 12m for residential and commercial applications. The sensor which should be mounted at ca 1.2m height includes two PIRs providing a double layered detection area, the sensor will only trigger when both layers are activated. The VXI sensors are animal tolerant and feature digital analysis to eclude cause of false alarm. The VXI-R is the standard battery-powered model.
Digital analysis for enhanced reliability

The VXI sensors features a digital microprocessor which analyses the infrared emissions received and differentiate the ones generated by human from the ones generated by sunlight, animals, vegetation sway, or weather conditions. This intelligence makes the risk of false alarm very low.
Flexible detection coverage

The detection length of the VXI sensors can be set to 12m, 8.5m, 6m, 5.5m or 2.5m to adapt to the site configuration. The sensor comes as well with a choice of pre-cut masking templates to modify the detection areas and only focus on the points of interest.
The convenience of wireless

The VXI-R sensor can be powered by a variety of universal batteries including CR123, CR2 and 1/2 AA. Its housing can accommodate most wireless radio transmitters available in the market. This makes it easy to add a VXI sensor onto the shed, garage or any outer buildings and link it to an existing wireless alarm panel extend an a sensor easy to install in remote or temporary locations.

Applications
Buildings
Approach
House
Garage
Driveway
Key Features
12m battery-powered PIR for approach detection
Digital signal analysis to greater reliability
Accommodates most wireless transmitters
Main Features
Pet tolerant
Walk test mode LED
Double conductive shielding
Categorie : Bewegings- en perimeterdetectoren, Producten, Inbraak, PIR Bewegingsmelders
Specificaties
Algemene Informatie
Technische Informatie
Maximale afstand bewegingsdetectie
Maximum Motion Sensing Distance (mm)
Passieve infraroodsensor (PIR)
Camera
Connectiviteitstechnologie
Energie
Physical Characteristics
Productinformatie
Uiterlijke kenmerken
Miscellaneous
Overige
Inhoud verpakking
VXI-R Motion Sensor
Connector for POWER and ALARM
Connector for TROUBLE
2 x Screw (4×20mm)
3 x Masking seal