Bosch AutoDome IP Starlight NDP-5512-Z30L 2 Megapixel HD Network Camera - Color, Monochrome - Dome
Merken:
Bosch
Artikelnr #:NDP-5512-Z30L
Model #: NDP-5512-Z30L
Naam: Bosch AutoDome IP Starlight NDP-5512-Z30L 2 Megapixel HD Network Camera - Color, Monochrome - Dome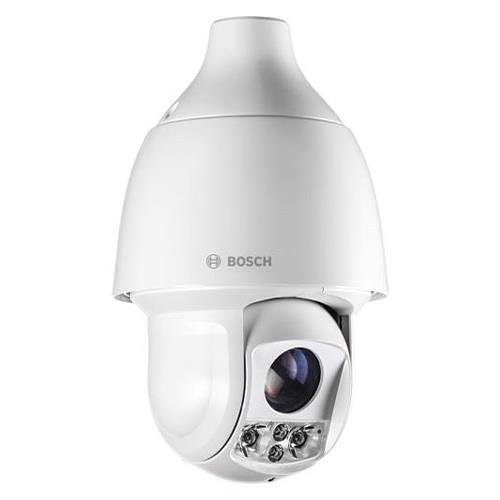 Productoverzicht
Algemeen Informatie
Keep your security in focus with the many features of the AUTODOME IP starlight 5000i IR camera. The camera is carefully tuned to deliver detailed, 1080p60 HD images during the day as well as full details in lowlight or no-light conditions. The integrated, intelligent IR illuminator automatically adjusts the IR intensity according to zoom factor and field of view to ensure that the scene is illuminated uniformly.
Functions

See in the dark

The camera's smart, variable IR illumination technology from Bosch produces outstanding video on a per-zone basis in low-light scenes. This configuration ensures that each scene receives the appropriate illumination intensity and avoids focus instability from mixed lighting conditions.
Low-light performance

The latest sensor technology, combined with sophisticated noise suppression and a High dynamic range of 120 dB, results in an exceptional sensitivity in color. The camera continues to provide excellent color performance even with a minimum of ambient light.
Pre-programmed user modes
The camera has several pre-configured scene modes with the best settings for various applications. With one click, users can optimize image settings to match the camera's lighting conditions. Users can also configure individual image settings.
Standard: For indoor fluorescent lighting.
Sodium-lighting: For scenarios where the video is captured under sunlight in the day or under sodium vapor lamp at night.
Vibrant: For enhanced contrast, sharpness, and saturation
Number Plate scene mode: For the best image to be used by ANPR software.
H.265 high-efficiency video encoding

The camera is designed on the most efficient and powerful H.264 and H.265/HEVC encoding platform. The camera is capable of delivering high-quality and high-resolution video with very low network load. With a doubling of encoding efficiency, H.265 is the new compression standard of choice for IP video surveillance systems.
Intelligent streaming
Smart encoding capabilities, together with Intelligent Dynamic Noise Reduction technology and analytics, make the bandwidth consumption drop to extremely low levels. Only relevant information in the scene, such as motion or objects found with the analytics, are encoded.
Support for H.264 and H.265 with Encoder Regions
Set a region in the field of view and define a specific encoder profile to it. This setting reduces the bitrate of the stream further than intelligent streaming alone.
Recording and storage management
Recording management can be controlled by the Bosch Video Recording Manager application, or the camera can use local storage and iSCSI targets directly without any recording software. A memory card with a maximum of 32 GB (microSDHC) / 2 TB (microSDXC) can be used for recording "at the edge" or for Automatic Network Replenishment (ANR) technology to improve the overall recording reliability. Pre-alarm recording in RAM reduces bandwidth consumption on the network and extends the effective life of the memory card.
Stratocast™service from Genetec

The camera provides Stratocast service, which records video in the cloud, eliminating the need to install servers on-site.
Categorie : Videobewaking, Producten, PTZ Beveiligingscamera's, IP Camera's
Specificaties
Algemene Informatie
Productnaam
NDP-5512-Z30L PTZ 2MP HDR 30x IP66 hangend IR
Technical Information
Maximum Focal Length (mm)
Minimale brandpuntafstand
Technische Informatie
Effectieve cameraresolutie
Beeldscherm
Camera
Connectiviteitstechnologie
Night Vision Distance (mm)
Display & Graphics
Effective Camera Resolution (Pixel)
Interfaces/Poorten
Lens
Maximale brandpuntafstand
Netwerk & Communicatie
Physical Characteristics
Product Information
Productinformatie
Montage
Dakbevestiging, Muurbevestiging, Plafondsteun, Plafondsteun DS-1299ZJ, Wandsteun
Projectielens
Minimum Focal Length (mm)
Storage
Uiterlijke kenmerken
Overige