Ip Panoramic Fisheye 12mp 1.85mm Ip67
Merken:
Dahua
Artikelnr #:IPC-EBW81242-AS-S2
Model #: DH-IPC-EBW81242P-AS-S2
Naam: Ip Panoramic Fisheye 12mp 1.85mm Ip67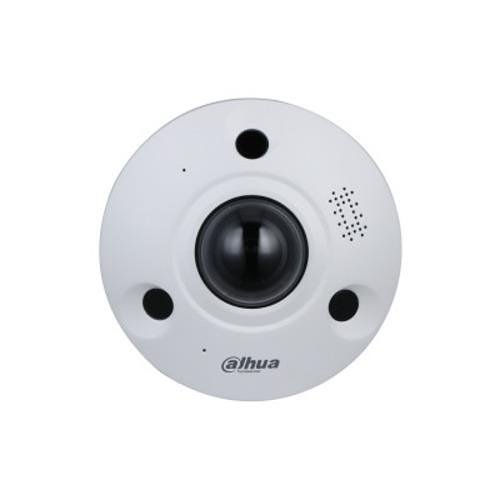 Productoverzicht
Algemeen Informatie
Launched by Dahua Technology, Dahua WizMind is a full portfolio of solutions composed of project-oriented products including IPC, NVR, PTZ, XVR, Thermal and software platform which adopts industry-leading deep learning algorithms. Focusing on customer's requirements, WizMind provides precise, reliable and comprehensive AI solutions for verticals.

Series Overview

With fisheye lens, Dahua Fisheye series camera can realize 360° surveillance, and it is widely applied in various scenes such as airports, shopping centers, banks and hotels.

Functions

Smart H.265+ & Smart H.264+
With advanced scene-adaptive rate control algorithm, Dahua smart encoding technology realizes the higher encoding efficiency than H.265 and H.264, provides high-quality video, and reduces the cost of storage and transmission.

Fisheye VR
With intelligent algorithm, Dahua Fisheye VR technology provides interactive 3-dimensional dynamic view through fisheye image. Dahua fisheye VR supports various interactive modes, such as original, bowl, cylinder and asteroid, providing more interactive experience.

People Counting
With advanced stereo image technology and deep leaning algorithm, Dahua In Area No. technology recognizes human targets accurately to count people in area in real-time. You can set people quantity threshold, when the number larger or smaller than the threshold, it triggers linkage. It is applicable in the scene that has limit on people quantity.

Queue Management
With advanced image processing technology and deep leaning algorithm, Dahua Queue Management technology counts people quantity in selected area in real time to realize queue management. It supports multiple polygon areas. When No. in area/strand time is not smaller or not larger than the threshold, it triggers alarm.

Heat Map
With deep learning algorithm, Dahua People Counting technology can track and process moving human body targets to realize the accurate statistics of enter No., leave No., and In Area No. Working with management platform, it outputs reports to meet your requirements.

Protection (IP67, IK10, Wide Voltage)
IP67: The camera passes a series of strict test on dust and soak. It has dust-proof function, and the enclosure can works normal after soaking in 1 m deep water for 30 minutes.
IK10: The enclosure can stand the punch more than 5 times from a 5 kg hammer falling from a height of 40 cm (Impact energy is 20J).
Wide voltage: The camera allows ±30% (for some power supplies) input voltage tolerance (wide voltage range), and it is widely applied to outdoor environment with instable voltage.
Categorie : Dome Camera's, Videobewaking, IP Camera's, Producten
Specificaties
Algemene Informatie
Fabrikant
Zhejiang Dahua Technology Co., Ltd.
Productnaam
12MP IR Fisheye WizMind Netwerkcamera
Technical Information
Gezichtsveld
Horizontal: 185°; Vertical: 180°
Maximum Focal Length (mm)
Technische Informatie
Effectieve cameraresolutie
Videoformaten
H.264H, MJPEG, PAL, Smart H.264+, Smart H.265+
Belichting
Camera
Connectiviteitstechnologie
Night Vision Distance (mm)
Display & Graphics
Effective Camera Resolution (Pixel)
Energie
Interfaces/Poorten
Lens
Maximale brandpuntafstand
Netwerk & Communicatie
Omgeving
Maximale gebruikstemperatuur
Maximum Operating Temperature (°F)
Minimale gebruikstemperatuur
Minimum Operating Temperature (°F)
Opslag
Physical Characteristics
Duurzaamheid
Dust Proof, Waterbestendig